FCS Commitment to Diversity and Inclusion
We are a values-based team committed to fostering a culture of inclusion, embracing diversity, and treating each other with respect.  Our organizational values represent our expectations of how we work together to serve the University community and create a climate in which all staff can thrive and grow.
The Diversity and Inclusion Council has established overall goals in line with the university's Towards New Destinations initiative:
Composition: Measure and improve pipeline or increased diversity within the four distinct job groups - custodians/head custodians, energy plant personnel, grounds personnel and transportation service representatives.
Achievement: Develop processes to promote career advancement and/or professional development opportunities for FCS staff.
Engagement: Establish an outreach committee that will work on distinct activities that promote inclusion and diversity throughout the division. 
Inclusion: Respect at Cornell required of every employee and supervisor within FCS. Develop and implement a diversity and inclusion 'Tool-Kit'.
The university tracks progress towards these goals on dashboards.
This year, the FCS Diversity and Inclusion Council will be focusing on the following three initiatives:
Identify specific underrepresented job titles to develop and implement outreach plans with the intent to increase diversity of applicant pools.  
Develop a diversity and inclusiveness training program that covers topics that are both relevant to our current culture, and are based on direct feedback from FCS staff.
Explore opportunities within the surrounding counties and communities to promote Cornell careers within FCS and solicit Cornell FCS Staff volunteers who can engage with potential diverse candidates.
---
What is the role of the FCS Diversity and Inclusion Council?
Act as an advocate to managers and supervisors to develop plans of action in response to areas of concern resulting from the FCS Climate Survey

Monitor department-wide progress on diversity issues
Serve in an advisory capacity to the FCS Diversity and Inclusion Advisory Group Co-Chairs and FCS Leadership Team
Maintain up to date awareness of diversity-related laws, procedures, and guidelines so as to be able to advise and refer individuals as appropriate
Maintain awareness of, and communicate diversity initiatives within, the department, division, and Cornell
Committee Members
Helen Steh and David Cutter (Co-Chairs) 
Kelley Cooper (Advisor)
Careen Arsenault, Spring Buck, Danielle Cox, Sarah Hogben, Rachel Kissinger, Bennie Lemus, Ilene Miller, Courtney Van Order, and Meghan Walker. 
---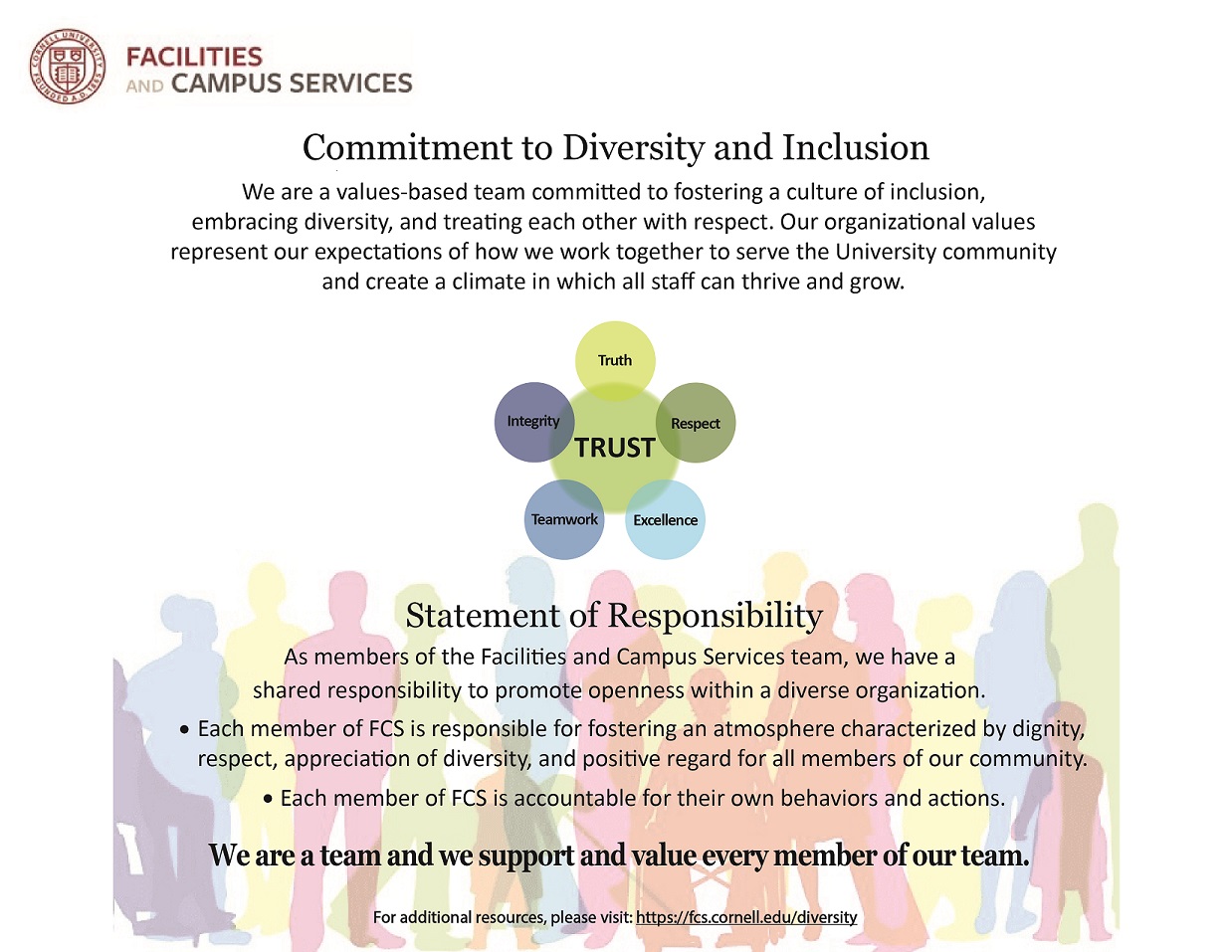 Link to an accessible version of the Commitment to Diversity and Inclusion Image
---
There are many ways to deal with concerns in the workplace. Below are a few options, dependent on the situation. Find more detailed support resources here.
Give feedback directly. If you hear or see something you feel is inappropriate, and you feel comfortable addressing the issue directly, tell the person or people about how their behavior impacted you.

Contact your supervisor to discuss what happened. Your supervisor can help you address the issue and engage others as needed.
Contact FCS Human Resources to discuss the situation. FCS Human Resources can work with you to find an appropriate resolution.
Contact the Faculty and Staff Assistant Program (FSAP). FSAP offers free and confidential guidance and support to benefits-eligible employees and their partners to address issues that may be affecting their personal lives and/or job satisfaction or performance. 
Contact the Office of Workforce Policy and Labor Relations to report harassment or bias.
If you are represented by a union, contact your union. Your union representative, steward, or local office can support you through the process and help you in dealing with the situation.
Contact a member of the FCS Diversity & Inclusion Council.