Energy and Sustainability
Energy & Sustainability is comprised of three interactive teams that work together to achieve our obligations and seize opportunities to reduce our environmental footprint while providing vital utilities services to the Ithaca campus.
Campus Sustainability Office
Empowers, equips, and engages our diverse partners to catalyze a sustainable campus transformation.

Energy Management
Conserving energy, load forecasting, trending, optimizing supply, reducing demand, metering...

Utilities Distribution and Production
Infrastructure: producing and distributing heat, cooling, electricity, water...
NEWS: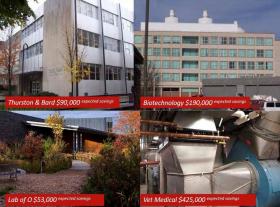 The Cornell energy conservation initiatives around campus are continually striving to create a high efficiency, low cost campus​. The energy savings from the four projects above will reduce our campus emissions by more than 1,500 tons of CO2 emissions annually...and with the work completed and being done at present, we estimate there will be a savings of 1.4 million dollars annually.​ ​We are securing our future by investing today in a campus that performs well, and uses energy wisely. 
New 110 acre Cascadilla Community Solar Farm at Cornell University
When commissioned later this year, there will be 28 MW of solar on 6 farms on Cornell land. Read about it in the March 6, 2019 edition of the Cornell Chronicle.