Cornell Ann S. Bowers College of Computing and Information Science New Building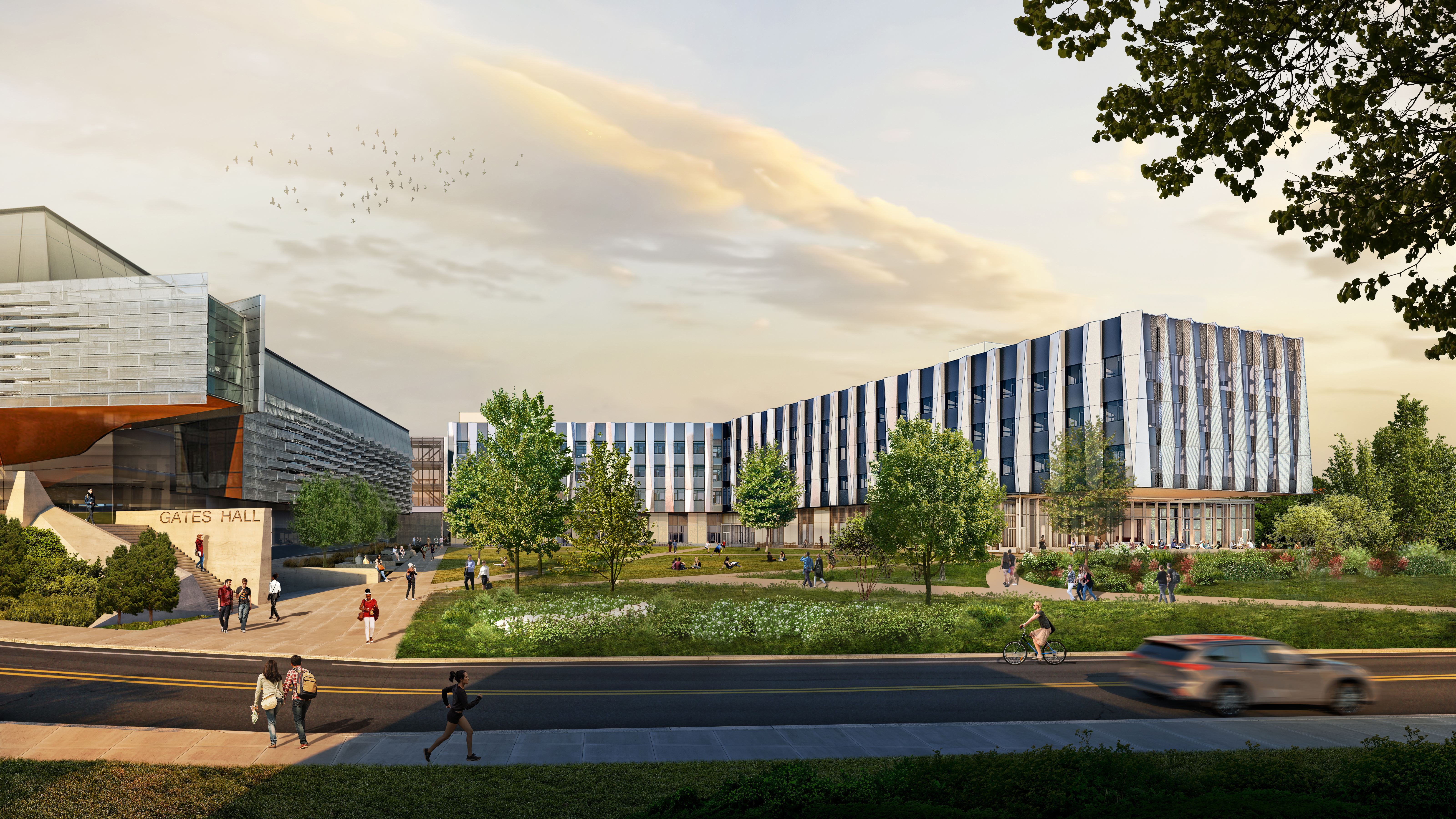 Overview
The Cornell Ann S. Bowers College of Computing and Information Science will construct a new 134,972 GSF high-performance building located at 127 Hoy Road, south of Gates Hall in the area currently occupied by Hoy Field. Learn more about the new building in this video and Cornell Chronicle story.
Bringing together the departments of Computer Science, Information Science, and Statistics and Data Science for the first time in one complex, the new building provides instructional, research and community resources for the college's rapidly growing computing and information science programs. The new four-story building will define a highly identifiable Bowers CIS precinct of continuous building and open space, consisting of two four-story wings forming an open angle "L" framing a shared green space with Gates Hall. The building will be linked to the eastern end of Gates Hall at the second, third and fourth floors. A pedestrian bridge will provide passage into both the new building and Gates Hall. The ground floor will be marked by a cantilever of the upper floors providing a sheltered terrace looking toward Rhodes Hall. The ground level student "ramble" along the courtyard edge will provide a place for individual and small group study, while a relocated Gimme Coffee, commons, large interactive classroom, and a series of builder labs and a maker space welcome students of all levels to collaborate. The upper floors will provide academic research and administrative offices, research dry labs and additional collaboration space. A basement under the north wing will house mechanical equipment, general storage, and a server room. A loading dock located on the ground level will serve both the new building and Gates.
Site work includes a new service drive and court, an at-grade courtyard, (2) bioretention filters, retaining walls and site stairs, plantings, a mid-bay connection into Hoy Garage, removal of a traffic booth, removal of and installation of new site utilities.
Project team
Kavita Bala, Dean, Cornell Ann S. Bowers College of Computing and Information Science - Project Sponsor
Patrick Conrad and Paul Stemkoski - FCS Project Managers
Adam Heisler - FCS Construction Manager
Michael Swartwout - Cornell Bowers CIS Facilities Director
Pat Musa - Cornell Bowers CIS Project Lead
Winifred Stopps - LWA, Project Architect
Andrea Leers - LWA, Principal
TBD - Project Manager
TBD - Site Superintendent
Project schedule
Mobilization: Spring 2023
Excavation/Sitework: Spring 2023
Structure Begins: Fall 2023
Building Enclosure Begins: Spring 2024
Interior Begins: Spring 2024
Final Completion: Spring 2025
Project statistics
4 stories, plus basement
134,972 GSF
LEED Gold