STACS Registration Information
Registration Information for the STACS
Internal Reallocation Program
 
The STACS program has an internal reallocation component which offers a process for internal transfer of surplus property that is web-based. Interested departments are able to electronically request surplus items on a "first come, first-serve basis."
The STACS Internal Reallocation program is managed by Cornell's R5 Operations department, and the website is hosted by "Public Surplus."
HOW TO SIGN-UP FOR ACCESS TO THE STACS INTERNAL REALLOCATION WEBSITE:
There is a one-time registration process required for access to the STACS Internal Reallocation Program. To register:
Visit the Cornell University STACS Internal Registration page: www.publicsurplus.com/sms/cornell,ny/register/internal
Use your Cornell University email address during the registration process.
Use Registration Code: JAW 18 LEFT 38
Follow Registration login directions.
Once registered, close your browser.
Open new browser. Go to the Cornell STACS website. Click login. (Login button is in the upper left corner of page.)
IMPORTANT: Individuals, who have registered for the Internal Reallocation access, once logged in, will be able to choose whether to see all Cornell Auctions, only Public Cornell Auctions, or only items for internal reallocation. To see the items available only for internal reallocation choose "Internal Auctions Only" in the drop down box on the upper right of the page.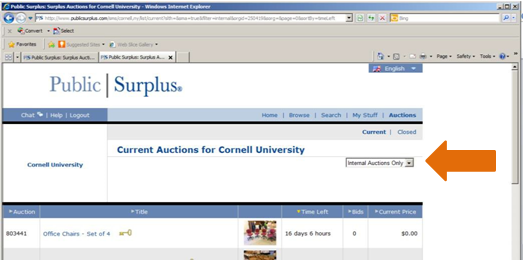 NOTE: Cornell's STACS program also has an online public auction of surplus material hosted on the Public Surplus website. For bidding on items for personal use, register as a buyer on Cornell's public auction website. Click here to visit Cornell's public auction website.
 Click here to for the FAQ's on the STACS program.
If you need assistance or have questions, please contact R5 Operations at recycle@cornell.edu or (607) 254-1666.