Cornell Welcome Center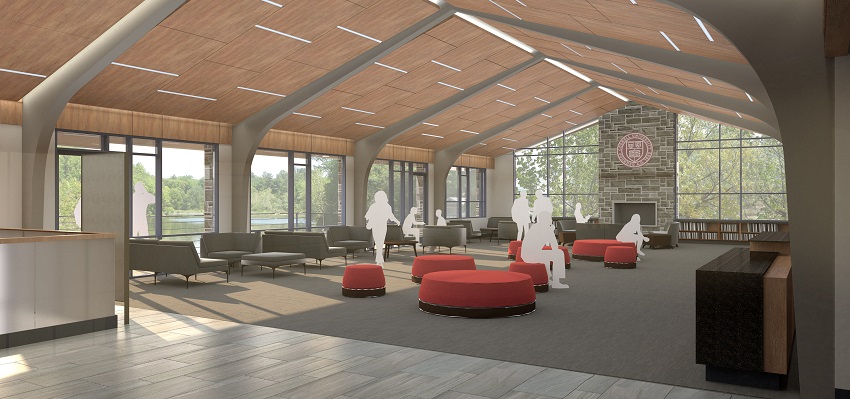 Overview
The current Cornell Welcome Center is located in the heart of campus in Day Hall.
The space in Day Hall is warm, approachable, and attractive. However, it is not
large enough to accommodate the sizable number of visitors the campus receives
and there is no opportunity for expansion. To better serve campus visitors, Noyes
Lodge on Beebe Lake will be renovated to provide a new expanded facility for the
Welcome Center.
Relocating the Welcome Center to Noyes Lodge presents an exceptional opportunity
to showcase Cornell's excellence and diversity in a location that celebrates the
beauty of the campus. This project will help shape Cornell's image; the Welcome
Center will directly impact the experience that thousands of prospective students
and their families have when they visit the campus. The vision is to design a Center
that is welcoming, comfortable, engaging, full of energy, and vibrantly reinforces
the Cornell brand.
The project encompasses site and building improvements that will elevate and
transform the visitor experience. Site improvements include a new visitor plaza at the
main entrance and improved pedestrian paths. These will create a sense of arrival,
increase the building's visibility, and provide a gathering space for large groups.
Building signage and branding elements will be incorporated into the design to
appropriately acknowledge donors and create an identity for the Welcome Center.
The main level of the building will be completely renovated to house a lobby,
welcome desk, open seating area, and multi-media exhibit area that will highlight
Cornell's history, mission and campus spirit.
The lower level will accommodate offices and support spaces for the Campus
Information and Visitor Relations department. A new office and conference room
for Alumni Affairs and Development and Admissions will also be provided, along
with additional public toilet rooms.
Rendering by JMZ Architects
Project schedule
Construction Start: September 2017
Substantial Completion: Mid-May 2018
TCO: Mid-May 2018
Certificate of Occupancy: September 2018