Dwyer Dam Bridge on Hoy Road Closed April 26-November 30, 2021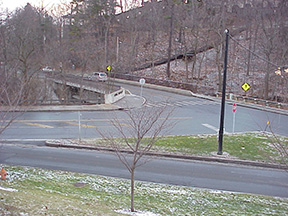 Dwyer Dam Bridge on Hoy Road is scheduled to close Monday, April 26, and remain closed to traffic until late November.
The bridge, which is located at the intersection of Hoy Road, Dryden Road, and Ithaca Road (adjacent to the Humphreys Service Building), will undergo a significant rehabilitation project to replace the bridge's floor beams, deck, railings, and guide rails, improve lighting and security, and add a means restriction net system on the south side of the bridge. The project also includes the replacement of the existing timber stairway at the northwest corner of the bridge with a precast concrete stairway, new handrails, and improved lighting.
Pedestrians will continue to have access to the bridge's sidewalk until a temporary pedestrian bridge is erected. The timber stairs to Schoellkopf stadium will remain open until mid-July. Stair replacement is expected to be completed by the beginning of October.
A detailed traffic detour plan and directional signage will be in place by Friday, April 23. Motorists, cyclists, and pedestrians are reminded to follow all detour and flagger instructions and to exercise caution whenever traveling in a construction zone.